Liminal Spaces/ Morocco
Farmani Gallery, Los Angeles, CA, 2/05/08 - 3/01/08
Projections featured in concert: World Festival Sacred Music
Mahanizin - A Woman's Path Barnsdall Gallery Theater, L.A. 2008 link
Musicians: Vanessa Paloma, Fella Oudane, Fettah Abbou, Romeo Guzman.

Liminal Spaces: Photographs of Morocco by Rose-Lynn Fisher link
Fowler Museum at UCLA Los Angeles, CA, 9/17/06 - 1/14/07
Drinking from the Same Well
Jewish Cultural Center, Chattanooga, TN 9/12/04 - 11/14/04
press release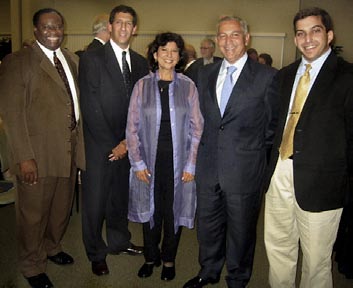 Jewish Community Federation of Chattanooga and Islamic Education & Services Institute co-host Drinking From the Same Well. Pictured: Councilman Yusuf Hakeem, Michael Dzik, Rose-Lynn Fisher, Moroccan Ambassador H.E. Aziz Mekouar, and Abdou Kattih at opening. Not in photo but also present, Sir Charles Dahan.


Drinking from the Same Well: Jewish and Muslim Co-existence in Morocco link
Museum of Anthropology, Wake Forest University
Winston-Salem, NC 11/5/03 - 2/14/04
In conjunction with 2003 theme year "Fostering Dialogue"
The Children of Yesterday
Hudson Museum, University of Maine, Orono 7/13/03 - 10/31/03
Present in the Past
Chicago Cultural Center, 3/27/02 - 7/29/02
Essential Means
Gallery of Contemporary Art, Umm el-Fahm, Israel, 2000

Morocco: Jews and Art in a Muslim Land
The Jewish Museum, New York, 9/24/00 - 2/11/01
(selected photography included in this catalog and exhibition)